Contact us:
Tel: +44 (0)115 987 3777
Want to visit us:

10th Feb. 2021: CONFEX selects Media Hut as official merchandise supplier.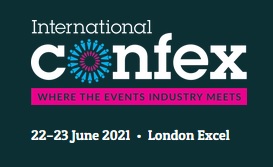 Partnership will allow exhibitors to drastically reduce their carbon footprint as well as the exhibitions overall impact on the environment.
Media Hut, the leading supplier of sustainable promotional merchandise to the exhibition industry, has entered into a memorandum of understanding with the organisers of CONFEX to become the show's official merchandise provider.
December 2020: Our Christmas Catalogue is now available.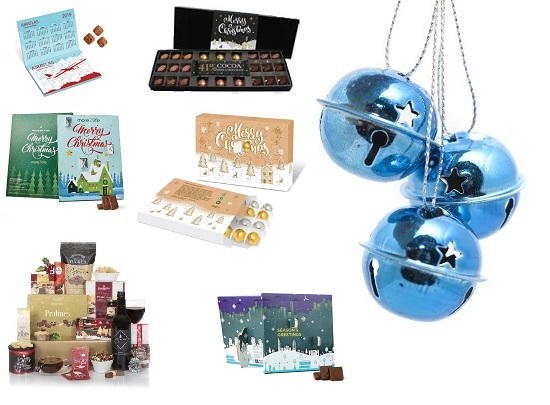 Download the catalogue here
6th February 2020: iGB Affiliate Conference, London!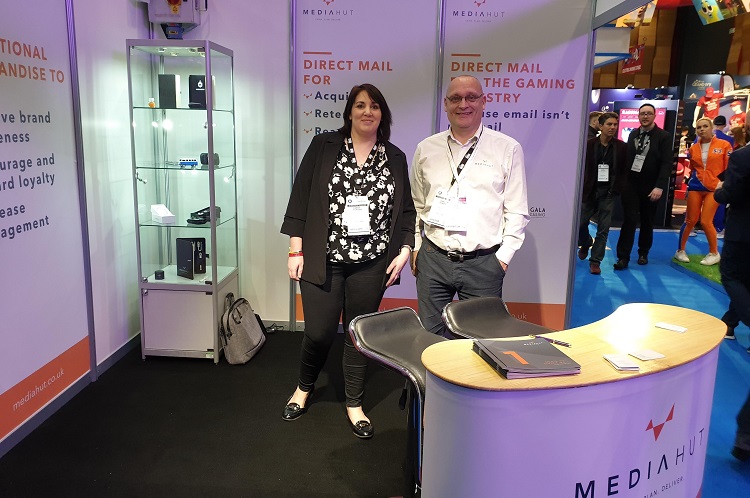 Karl Dukes and Deborah Topham on our stand at the iGB Affiliate Conference at ExCel in London. Also there, but not pictured are David Dickinson and Gareth Daibell.
23rd January 2020: Karl and Jo are attending the South West Awards!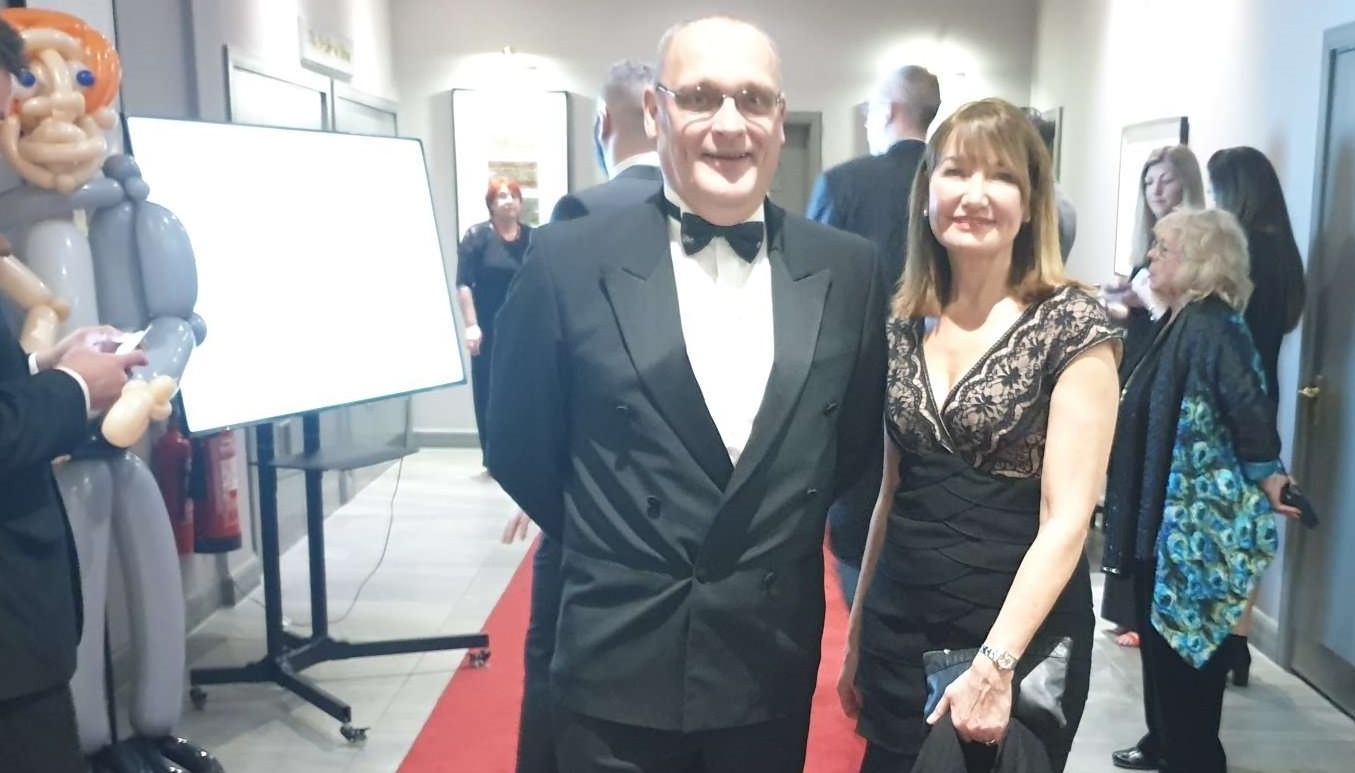 Karl Dukes and Jo Robinson at the South West Awards held in Swindon, which celebrates the achievements of businesses, charities and individuals, whilst raising money for charity in the South West region.
November 2019: We are delighted to announce we are now members of the Event Supplier and Services Association!

ESSA is the industry body representing the very best suppliers of goods and services to the events industry. They occupy a unique position amongst key industry holders by being part of the Events Industry Alliance. This alliance with the Association of Event Organisers and the Association of Event Venues gives ESSA and their members the opportunity to influence key initiatives and changes that can have a direct impact upon the whole sector.
Our Managing Director, Mike Towle commented "We work hard to provide a first class service to our customers that often delivers beyond their expectations, and it's an honour this is recognised by ESSA".
17th July 2019 - We exhibited at iGB in Amsterdam!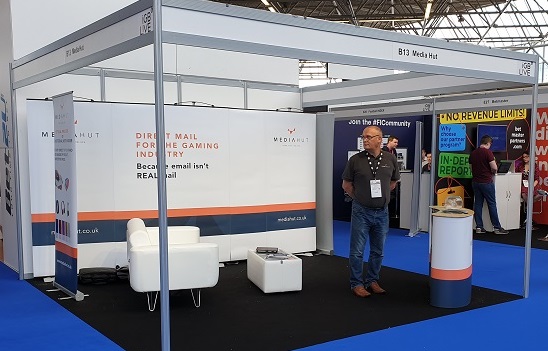 Karl Dukes and Gareth Daibell on our stand at the exhibition. Karl is pictured on our stand, just as the exhibition opened.
28th November 2018 - We exhibited at Sigma 18 in Malta!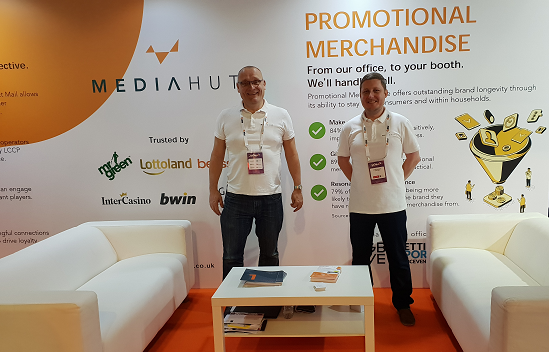 Karl Dukes and Gareth Daibell on our stand at the exhibition. David Dickinson is there too, but he's the guy taking the photo.
30th May 2018 - Karl Dukes article on GDPR in SBC News!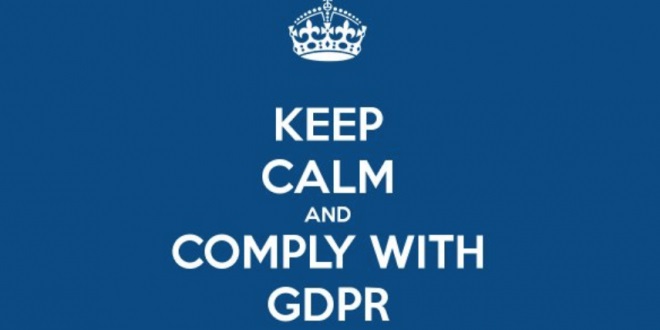 Amid the hype of the introduction of European wide GDPR regulations, Karl Dukes, Marketing Director of Media Hut, clarifies the regulatory context surrounding consent and communications.
Read Karl's article "GDPR Hype! Dispelling the myth around consent" in SBC News now.
9th Feb. 2018 - Karl Dukes was selected as a judge for the iGB Affiliate Awards!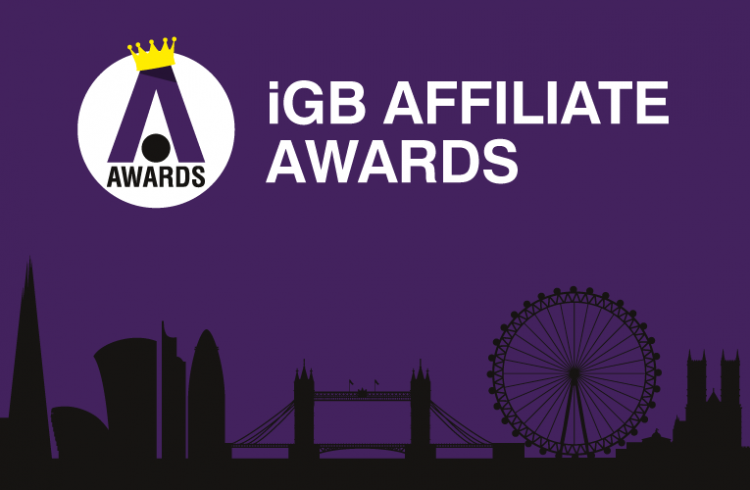 The event took place on Friday 9th Feb. during the London Affiliate Conference 2018 and was free to attend to all conference delegates.
22nd to 25th Nov. 2017 - We exhibited at Sigma 17 in Malta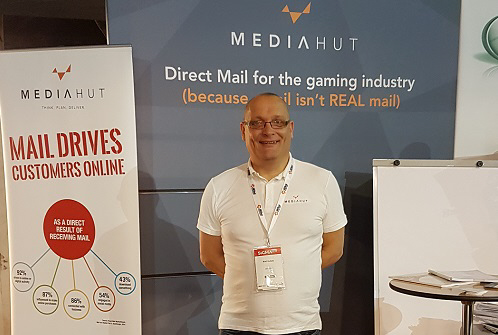 Karl Dukes on our stand, at the start of the exhibition. David Dickinson is there too, but he's the guy that took the photo, so managed to stay out of the shot!

November 2017 - Our Technical Manager Tim Miles-Hayler has now completed 20 years service!

He started way back on 21st November 1997 as a Multimedia Developer. At that time, Media Huts business model was putting demonstration software onto CD-ROMs, these were then distributed with new PCs, modems, and games controllers. Tim was charge of the multi-media software development.

As the internet slowly replaced the CD as a distribution medium, Media Huts business turned to creating corporate presentations. Tim was at the centre of this, and developed a number of presentation projects for some major clients. Over the years, Tim's focus changed to in-house CD/DVD duplication and maintaining the in-house computer network and PCs. For which he's proved to be invaluable.

Well done, and thank you Tim!

We don't know what the digital landscape will look like over the next 20 years, but hope you'll be there to help us through it!

October 2017 - Our General Manager David Dickinson has now completed 20 years service!

He started way back on 8th October 1997 as an Accounts Clerk. He took on a number of roles over the years in sales, administration, and production control, before finally becoming General Manager.

As a key member of the team, he can often be found with our Sales and Marketing Director Karl Dukes manning an exhibition stand, and usually setting it up while Karl is 'networking' in the bar.....

Although Davids duties have seen him travelling as far as the USA and even Australia, he manages most of the business operations on a day to day basis. The smooth operation of our company is down to the efforts of David. Making him an especially valuable employee.

Well done, and thank you David!

We all look forward to working with you for another 20 years!
16th to 19th November 2016 - We exhibited at Sigma 16 in Malta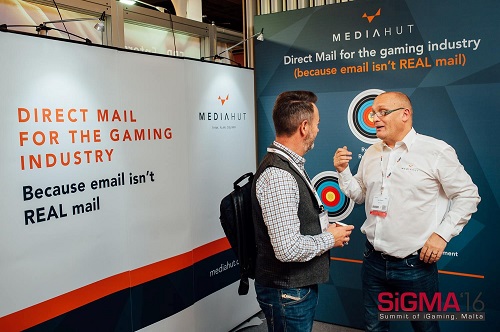 Karl Dukes on our stand talking to a visitor. It was very successful show, but weather not so good. It rained all week!
15th September 2016 - Go Ultra Low!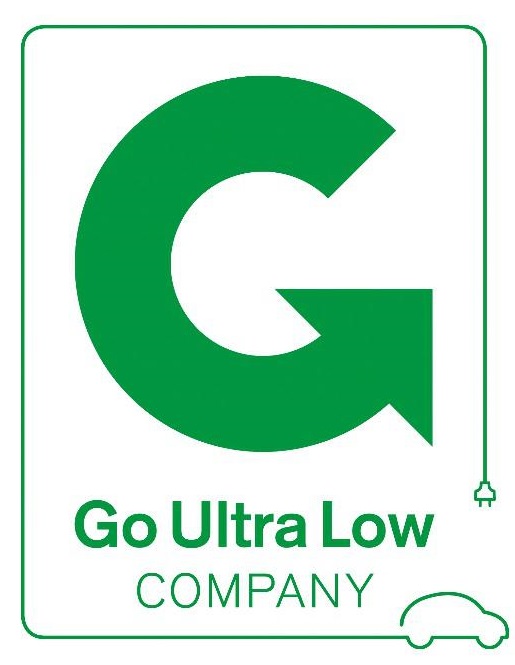 Media Hut is proud to be one of the first organisations in the UK to receive 'Go Ultra Low Company' status. The newly launched initiative recognises businesses that are embracing electric vehicles (EVs) as part of a new scheme run by government and automotive industry campaign, Go Ultra Low.
Thank you!
May 2016 - iNTERGAMINGi Magazine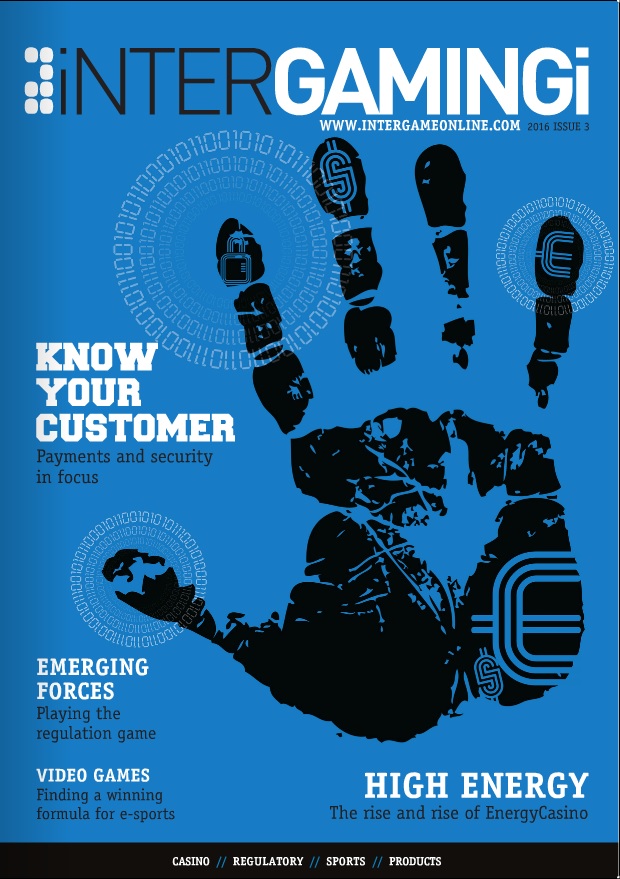 Read Karl Dukes' article on offline marketing on page 32 of the Issue 3 2016 edition of the iNTERGAMINGi magazine.
We're all so hooked on email, mobile, and social media, but there are alternatives. It's a fascinating read.
Sunday 14th February 2016 - Karl completes 20 years service!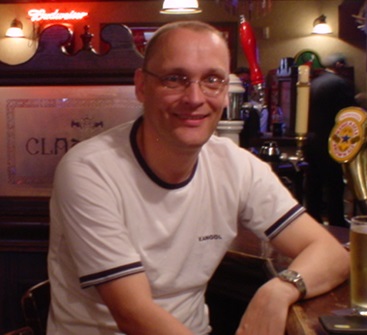 Karl started working for Media Hut on 14th February 1996, only two weeks after the company first started trading. Initially he was a telesales executive, but quickly worked his way up to Sales Manager, and eventually Sales and Marketing Director.

From everyone at Media Hut, we'd like to thank you for the hard work and long hours you've put in over the years to make our company such a success. Thank you!
Thursday 4th February 2016 - Media Hut Exhibiting at ICE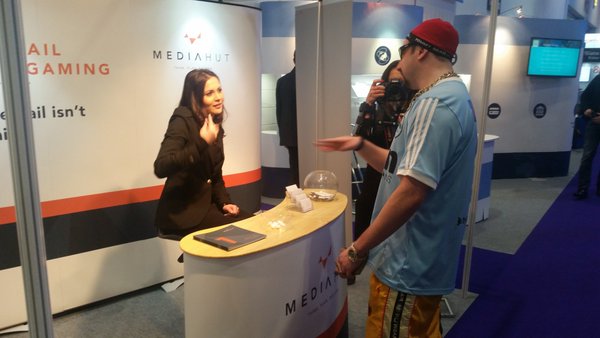 Emily meeting Dani B on the Media Hut stand at ICE.
Karl, David, and Emily spent three days exhibiting at the ExCeL, London. Karl then attended the London Affiliate Conference at the Olympia, London, for a few days until Sunday. In all, it was a very successful week.